Fundación Juan March: Modern Taste. Art Deco in Paris, 1910-1935
The exhibition Modern Taste: Art Deco in Paris, 1910–1935 aims to offer visitors an opportunity to appreciate, examine, assess and enjoy an artistic movement that defies easy definition but which has been described as "the last of the total styles": Art Deco. This is the first exhibition devoted to this movement held in Spain, and it is also the first to be presented outside a general or decorative arts museum, in an institution whose exhibition program is primarily given over to modern art.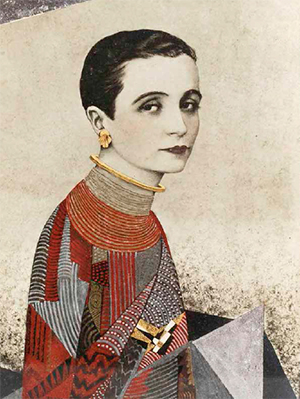 Jean Dunand. Madame Agnès, 1927.
Cortesía Galerie Michel Giraud, París
The show both is and is not an exhibition "of" decorative arts. While it does, indeed, include pieces that are outstanding examples of decorative art, in concept its very precise intention has been to challenge the time-honored division (rigid but too simplistic to be meaningful) between the fine arts and the decorative or applied arts that is so typical of today's approach to the aesthetic. The exhibition aims to question the almost total absence of Art Deco from the history of modern art and from curatorial practice, and to vindicate—as some exemplary cases did in the wake of the Deco revival from the 1970s onwards—not only the evident beauty of Art Deco but also the fascination exerted by this singularly modern phenomenon with all its cultural and artistic complexity.
What we know as Art Deco was an alternative style to the avant-garde. It stood for a modernity that was pragmatic and ornamental rather than utopian and functional, and it became the great shaper of modern desire and taste, leaving its characteristic stamp on Western society and capitalism in the early decades of the 20th century.
Modern Taste: Art Deco in Paris, 1910–1935 is organized chronologically and thematically into eight sections that trace the evolution of a fascinating yet little-known phenomenon. Featuring over 350 paintings, sculptures, pieces of furniture, fashion garments, items of jewelry, perfumery, cinema-related material, images of architecture, glass, ceramics, lacquerwork and goldsmithery, not to mention fabrics, book-bindings, photographs, drawings, plans, models, advertising posters and magazines from more than fifty public and private collections in both Europe and the United States, Modern Taste: Art Deco in Paris, 1910–1935 is vividly evocative of the Zeitgeist of a time that is as difficult to capture as it is deeply-rooted in our contemporary culture.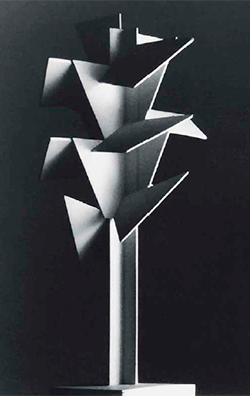 Jan & Joël Martel. Maqueta del Árbol cubistapara la Exposición Internacional de París, 1925.
Colección F. Langer Martel
The exhibition brings together 122 artists, designers, artist-decorators, couturiers, interior designers,ensembliers, architects and craftsmen whose concerted output illustrates the exhibition's narrative thrust, which starts off with a quest for the origins of Deco in the Paris of the first decade of the 20th century. Cubism is identified as one source and reassessed accordingly; the luxury and functionality of French interiors in the 1920s are panoramically displayed; there is a virtual visit to the 1925 Paris Exhibition…. The show is particularly rich in the kind of objects that attest to Art Deco's powers to seduce potential consumers and foster new attitudes of mind, body and spirit through its influence on fashion, perfumery, accessories and decorative items. The itinerary continues with a look at the role of the exotic in Art Deco in general, and the effects of the 1931 Colonial Exhibition in Paris in particular, and it comes to an end in the mid-1930s, when Deco's peculiar version of modernity joined forces and amalgamated with new tendencies represented by the likes of Charlotte Perriand, Le Corbusier and Eileen Gray—names that spring readily to mind in association with modernity, from whose history Spain's Art Deco seems—oddly and unfairly—to have been excluded.